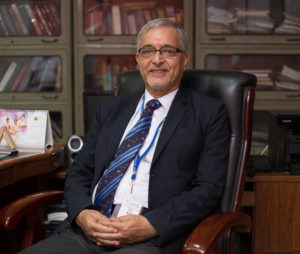 Prof. R.K. Khar joined B.S. Anangpuria Institute of Pharmacy as a Director on 31st March 2012. He is a renowned academician and a research scientist. He obtained B.Pharm and M.Pharm degrees from Dr. Hari Singh Gour Vishwavidyalaya (Sagar University) in the years 1971 and 1973, respectively, and was the University gold medallist in B.Pharm.
He was selected by Ministry of HRD, Govt. of India, for a Ph.D. fellowship under Indo-Bulgaria cultural exchange programme during 1982–1986. During the said programme, he visited most of the East & West European countries as a part of his academic programme. He served Jamia Hamdard for 37 years in the capacities of Dean and HOD of Faculty of Pharmacy, Dean Students Welfare, Placement officer, and Proctor.
He has supervised 72 Ph.D. and 110 M.Pharm theses and published more than 301 research papers in International and National journals with a cumulative impact factor of 450 and citation of 13022, h-index of 56, and i-10 index of 151.
He has been the Principal Investigator of a number of research projects funded by various government agencies & Pharmaceutical industries of more than 4.50 crores.
Prof. Khar has 14 Indian and 2 US patents in his name. He has published 10 textbooks and 2 reference chapters. He is the chief editor of "Journal of Pharmacy and Bioallied Sciences" and is on the Editorial Board of Indian Journal of Pharmaceutical Sciences and Indian Journal of Pharmaceutical Education and Research.
He takes a very active interest in professional matters and has been the President of Indian Pharmaceutical Association (Delhi Branch) during 2000–2004, Treasurer of IPCA during 2000–2003, Co-Chairman of the 53rd local organizing committee of Indian Pharmaceutical Congress Association held in Delhi in Dec. 2001, Chairman of Scientific Committee for IPC, 2008 held at Delhi. He is the elected Fellow of Indian Pharmaceutical Association. He was honored with "Teacher of the Year Award in 2002" by Indian Pharmaceutical Teachers Association. He has also received best cited Paper Award in 2011 and 2012 by European Journal of Pharmaceutics and Biopharmaceutics.